Zion Shuttle Bus

When visiting Zion National Park in southern Utah, you can expect to be surprised. The simply beautiful visuals of mountain scenery, colorful sunrises and sunsets, red rocks and slot canyons, and abundant wildlife will never cease to amaze you. If you think you know Utah, think again. The first time you visit Zion National Park is guaranteed to not be your last.
What better way to see the park than to get someone else to drive you through it? This is part of the concept of the Zion Shuttle System. In an effort to decrease vehicular traffic as well to protect air and environment quality in the park, the Zion Shuttle System was developed about 10 years ago. During the months of April through October, visitors are required to utilize the shuttle system on Zion Canyon Scenic Drive, and private vehicles are not allowed.
The shuttle operates in a two loop system. The Springdale Shuttle makes six stops in Springdale, while the Zion Canyon Shuttle Loop makes eight stops at various points of interest inside Zion National Park. There is a transfer between the two loops which can be made at the Zion Canyon Visitor Center. You are allowed to get off and on as many times as desired, and riding the shuttle is free.
Excluding service animals, pets are not allowed on the shuttle.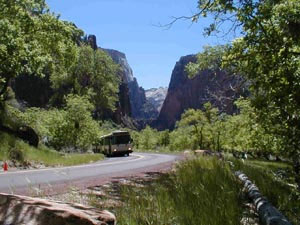 Shuttle Bus Route