Yellowstone Rafting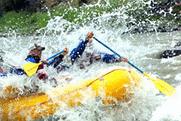 The rivers in Yellowstone National Park offer ample opportunities for a variety of river floats. The Yellowstone River and the Gallatin River offer whitewater adventures that you and your family or group will remember for years to come. Rafting is a great way to see the park and learn about it while also having a thrilling adventure.
The Yellowstone River is the milder of the two, but still rushing enough to get your blood pumping as you paddle through the rapids and waves. The rapids range from Class II-III with some calm swimming areas in between. This deep and wide river churns through the Paradise Valley with eventual passage through the Yankee Jim Canyon, considered to be the most beautiful part of the Yellowstone River. Half-day and full-day whitewater trips are offered as well as inflatable kayak whitewater trips or horseback riding and rafting combinations. Scenic trips are also offered on the Yellowstone River. For guests who want an extra thrill, reserve a small boat instead of the regular 16 foot rafts for a wilder ride. These boats allow for 2-3 guests per boat along with your guide.
The mighty Gallatin River is a step up in skill level and intensity over the Yellowstone River. These river trips are divided up by river sections of Class I-II, II-III and II-IV. The lower Gallatin River is bigger water with rapids rated at class II-IV. Everybody needs to be over 14 on the lower stretch and ready to work for their rush, paddling through the meat of the rapids at the command of your knowledgeable guide. The upper Gallatin River is fun for the whole family with rapids rated at class II-III. Guests on this portion of the river are still expected to paddle, but the water is more manageable than the Lower Gallatin. For guests who are not interested in getting wet, but are more into the scenery, there is a scenic stretch of the Gallatin as well. On the other hand, try an exclusive small boat for 2-3 guests plus your guide or an even smaller Hyside Shredder boat for just you and your guide for a real thrill.
The geology will astound you in these canyons and corridors. Wildlife sightings are very common along the river's edge. Plan for a half day adventure or a full day with lunch on the shores of the river. An overnight trip on the Gallatin is available for those that can't get enough of the Gallatin River. Whole day floats can be planned around your group's ability level, from a raging whitewater day to a leisurely scenic float. Full day trips can be split into rafting and horseback riding as well. Test the waters of Yellowstone National Park with an exciting rafting adventure.

Speak with one of our helpful reservations agents and book your Yellowstone activities today!
866.256.9046