Yellowstone National Park has an abundance of Yellowstone cabin rentals near it's gateway communities and entrances. Cabins provide a great deal more privacy than standard hotel rooms and allow you to more fully immerse yourself into the serenity and solitude of the magnificent natural beauty that surrounds you.
Hibernation Station
The Hibernation Station log cabin village is located at the edge of town in West Yellowstone. The Hibernation Station Cabins offer some of the most distinct and original Yellowstone cabin rental options in the area. The Hibernation Station is full of character and unique surprises that you will never find at a standard hotel-type lodging property. Each cabin is uniquely decorated with it's own theme, and all cabins include satellite TV, private bathrooms with tub and shower. There is also a centralized conference/business services room with free wifi and a public computer that can be used if you need to get online.
View more details about Hibernation Station...
Golden Stone Inn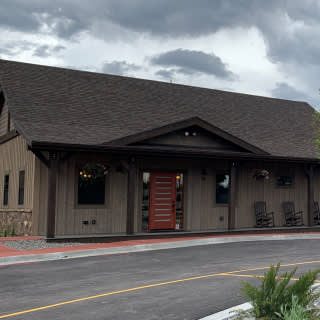 The Golden Stone Inn is a brand new lodging property disigned with a modern rustic feel, and only about a mile from the west gate of Yellowstone National Park in the town of West Yellowstone. The Golden Stone Inn is within walking distance of the attractions, shops, and restaurants of West Yellowstone. Dogs are also welcome at the Golden Stone Inn with no additional fees.
View more details about Golden Stone Inn...
Silver Gate Lodging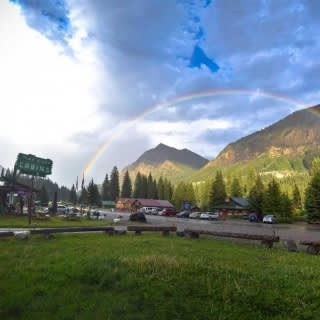 Silver Gate Lodging is located within minutes of the western gate of the park in the town of West Glacier. The property consists of 29 guest cabins from small intimate cabins to large cabin-style vacation homes. Many shops and restaurants are located just steps away from the property throught the community of West Glacier.
View more details about Silver Gate Lodging...
Yellowstone Valley Inn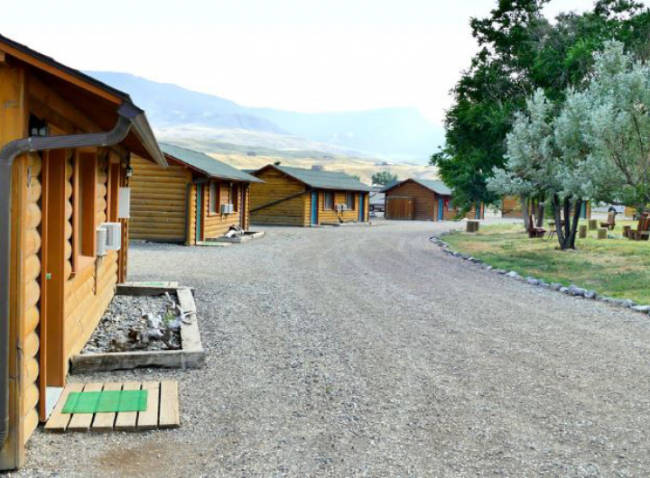 The Yellowstone Valley Inn is located on the east side of the park between Cody and Yellowstone's east entrance. The property includes 20 cabins beautifully decorated in knotty pine walls and vaulted ceilings. The cabins include 2 double beds, television, climate control and full private bathrooms. There is an on-site restaurant on the property, so you don't have to leave your your base camp to find a place to grab breakfast or dinner!
Pet-friendly cabin options are available as well!
View more details about Yellowstone Valley Inn...
Explorer Cabins at Yellowstone
The Explorer Cabins at Yellowstone are located in the heart of West Yellowstone and just moments from the west gate of Yellowstone Park. These private, stand-alone cabins offer a bedroom, private bath, living room and a kitchenette. Other features and amenities include private decks, HDTV's, WiFi Internet access throughout the property, tasteful Yellowstone-inspired decorations and more! These brand new cabins are a great option for cabin lodging in the West Yellowstone area!
View more details about Explorer Cabins...
Pines Homes at Island Park
The cabins at the Pines Homes at Island Park are spacious vacation homes that will probably challenge your permanent home in terms of luxury and amenities. You can choose from one, two and three bedroom cabins that will sleep up to six people. Amenities at these spacious Yellowstone cabin rentals can include satellite TV, washer and dryer, leather sofas, log furniture, BBQ grills, full kitchens, hot tubs and more.
View more details about Pines Homes at Island Park...
Blackwater Creek Ranch
The Blackwater Creek Ranch is a premier recreational destination, proudly accomodating travelers for nearly a century. This authentic "Dude Ranch" is deep in the mountains and is bordered by two streams. Blackwater Creek Ranch is a unique family vacation experience. Located in the Shoshone National Forrest, and just minutes from the east entrance of Yellowstone National Park, the distinctive geological wonders of the surrounding area are truly sights to behold.
View more details about Blackwater Creek Ranch...
Pahaska Lodge and Cabins
The Pahaska Lodge and Cabins are located just outside the western gateway to the park, which many people consider to be the most picturesque side of the park. Pahaska Lodge is the original lodge established by Buffalo Bill himself back in 1904 and is on the National Historic Register. Several varieties of accommodations are available at Pahaska, ranging from single bedroom A-frame cabins to multi-bedroom cabins, and even a large 'Reunion Lodge' that can accommodate multiple families or guests, perfect for a family reunion or a corporate gathering. All the accommodations at Pahaska include private bathrooms.
View more details about Pahaska Lodge and Cabins...
Headwaters Lodge & Cabins at Flagg Ranch
Headwaters Lodge & Cabins at Flagg Ranch is located in a great spot allowing for easy access to both Yellowstone and Grand Teton National Parks. The cabins at Flagg Ranch are cozy with comfortable furnishings and include either two queen beds or one king bed, a private bathroom, telephone, coffee maker and a patio with rocking chairs. The main lodge includes a restaurant, grocery, gas station, pub and gift shop.
View more details about Headwaters Lodge & Cabins...