The Black Canyon Raft Tours

This is a unique day trip, aboard a motor-assisted inflatable raft, through spectacular Black Canyon - the natural gorge of the Colorado River immediately below Hoover Dam. Enjoy and share in the history, desert wildlife and beauty of this otherwise inaccessible and rugged landscape.
We provide round trip transportation from various Las Vegas hotels, or you can choose to meet us at our check-in desk located at the Lake Mead RV Village at 268 Lake Shore Rd, Boulder City, NV 89005. You'll board comfortable tour buses for transportation to the launch area.

Black Canyon Raft Tour
TOTAL TOUR TIME: Approximately 3 hours on the Colorado River

CHECK IN TIME: 9:15 to 9:30am Daily
MEALS & BEVERAGES: A box lunch including a turkey wrap, chips, apple, cookie and water is provided.

TOUR DETAILS: This is an extremely rare view of the Hoover Dam that very few people have the opportunity to see along the Black Canyon National Water Trail. Guests board large comfortable rafts that have been carefully constructed with safety in mind. Rafts have multiple air chambers and are outfitted with all of the Coast Guard required and recommended safety equipment.
During this excursion, experienced and knowledgeable guides share the history of this magnificent geological area. The high canyon walls will leave you breathless. Be prepared to see Desert Big Horn Sheep, Osprey, and Great Blue Heron in their natural setting.
This tour stops along the shore to give you a chance to enjoy the cool, clear and calm waters below Hoover Dam. You might take this opportunity to enjoy the box lunch provided while watching and listening to the sights and sounds of this magnificent desert.
Your trip ends on the Arizona side of the Colorado River at Willow Beach - the uppermost boundary of Lake Mohave. Here you have the chance to shop for unique souvenirs of your trip before boarding air-conditioned tour buses for the return trip over the Mike O'Callaghan Pat Tillman Memorial Bridge to our tour desk or your Las Vegas hotel.
Daily tours March 1 through November 30
Wednesdays and Saturdays during December, January and February.
Private charters may be booked any day.
Closed for Thanksgiving, Christmas and New Year's Day.
Tour Prices:

TOUR COST: $114 including the NPS fee
TOUR POLICIES:
Rate does not include gratuity. Rate is quoted in U.S. dollars. There is no charge for the raft trip or lunch for children 4 years of age and under.
*Adult price includes the $10.00 National Park entrance fee. Any person under 16 years of age will not be charged an entrance fee. Entrance fee is waived for passengers holding National Park Passes, Golden Age, Eagle or Access passes.
**Transportation rates include roundtrip transportation of guests between Las Vegas hotels and Black Canyon/Willow Beach River Adventures check-in desk located at Lake Mead RV Village. This transportation service is provided separate from the raft trip and is outside the governance of the National Park Service.

Hoover Dam Postcard Tour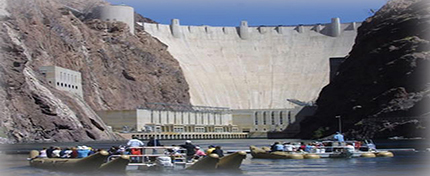 TOTAL TOUR TIME: Allow 1.5 hours for this tour - includes 30-minute raft float.

CHECK IN TIME: 10:15 to 10:30am Daily
TOUR TRANSPORTATION: All Black Canyon Trips use comfortable inflatable rafts.
CHECK-IN & TRANSFERS: Tour departs from the NPS parking area on Hwy. 93, on the far west end of the Hoover Dam Lodge

TOUR DETAILS: You'll see the original water line to Boulder City, dynamite storage bunkers used during construction and get a view of the dam exclusive to the passengers escorted down the Lower Portal Road by Black Canyon River Adventures staff.
Next, board a motorized raft with an experienced tour guide for a guided 30 minute ride on the Colorado River below Hoover Dam that includes unique views of the Dam, the power plant and Black Canyon.
You'll learn interesting historical facts and get an astounding view of the Mike O'Callaghan-Pat Tillman Memorial Bridge, winner of the 2012 Outstanding Civil Engineering Achievement (OCEA) Award for superior engineering achievement from the American Society of Civil Engineers (ASCE).
Closed for Thanksgiving, Christmas and New Year's Day.
No Transportation to/from Las Vegas Hotels is offered.
Tour Prices:

TOUR RATES: $33.00 per person
TOUR POLICIES:
Rate does not include gratuity. Rate is quoted in U.S. dollars. Acceptable forms of payment are: Cash, VISA, MasterCard, American Express, Discover.