Yellowstone Overnight Trips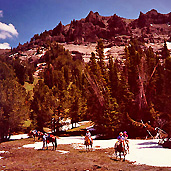 Yellowstone Park is an ideal place to explore the isolated back-country areas on top of a gentle and experienced horse. Day rides, overnight pack trips, and multi-day pack trips are available to suit your schedule and time frame in Yellowstone Park.
Guests on these unique back-country trips learn more than they can retain. You'll learn about the history of Yellowstone, including Chief Joseph's flight, fur traders, poaching, and the perils that faced the Washburn Expedition. You'll learn about animals of all sizes, plants, the fire cycle, geysers and last but not least, horsemanship.
Each trip has the potential to become a fishing trip as well. If guests are serious about fishing, there are specific fishing trip destinations. Fishing focused trips usually require at least an extra day more than the non-fishing centered trips to the same destination. Trips for every type of adventurer will be accommodated, from first-timer family trips to avid anglers to those curious about specific subjects such as wildflowers, geology or photography. Trips are available from July 1 to the end of September generally, but the end dates depend on the first major snowfall. These trips are all inclusive to the point that all you have to do is bring your own clothes and your toothbrush. Leave the rest to the experts.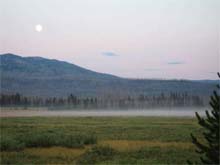 The northwest corner of Yellowstone Park offers up plenty of isolated wilderness, sweeping vistas, wildflower blanketed meadows and a plethora of wildlife, both mega and mini-fauna. This corner of the park is where the day rides venture as well as the one and two-night adventures. Try back-country horseback riding for a couple days to get introduced and test the waters. The camps in this neck of the woods are beautiful and seldom used. Two exciting trips in the NW corner are the Fan Creek & Gallatin River trip or the Black Butte Trail. The Black Butte Trail is best in the spring and into the beginning of July. There are wildflowers galore on this alpine trail with photo opportunities everywhere. Fan Creek & Gallatin River are best experienced in the Autumn and is a photographers dream as well. Both of these options include either hanging out and hiking/exploring during the day after reaching camp or venturing off on a day horseback ride up to over 9,000 feet elevation. These trips are the best way to get acquainted with back-country horseback travel.
Trips longer than three days can venture to any of the amazing nooks and crannies of Yellowstone Park. Each destination has a minimum time frame as well as a suggested time frame to fully enjoy and experience these unique regions of the park. Extra days can be added to any trip. A supplemental fishing guide can also be added to trips for an extra cost. Each adventure will give you an amazing new perspective on Yellowstone Park. Many people return year after year and try a new trip each year and still never see everything there is to see. Regardless of the daunting size of the park, multi-day horseback pack trips are the best way for park visitors to get the fullest perspective of what Yellowstone Park has to offer.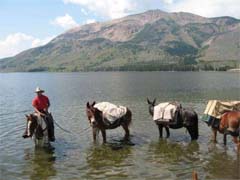 Slough Creek is famed for its fishing and scenery combined. Once in camp, anglers can fish to their hearts' content for three days. Non-anglers can take hikes or a day ride to some amazing heights close to 9,000 feet at Bliss Pass. Slough Creek itself cuts through wilderness, steep short canyons and makes its way into lush open meadows. 18-20 inch cutthroat trout are waiting, as well as the more elusive rainbow trout and cut-bow trout, a hybrid of the two. Slough Creek is an ideal dry fly fishery. This trip has a four day/three night suggested length, bare bones minimum for this trip is three days and two nights.
Take the path of the Washburn Expedition, which is a 50-60 mile progressive journey following the steps of the group who explored the upper Yellowstone area and worked diligently to protect it as a park. This trip is a great path of discovery for groups who are unfamiliar with Yellowstone Park and who appreciate history. The route includes a camp at Lake Yellowstone, following and eventually fording the Yellowstone River and the final night is spent along the shores of Heart Lake. The minimum length of this journey is 5 days/4 nights.
Not only is the Lamar River Valley the top place for observing bison, bears, and wolves interact, it is one of the top fishing destination areas in the park. From the river valley, you will ford a couple streams and fish Miller Creek, Mist Creek, Pelican Creek and Clover Creek along the five days. You will ride 10-12 miles a day and each camp corresponds to one of these great fishing creeks or another. Ideally, this is a five day/four-night trip. The minimum length for fishing is four days and three nights unless fishing is not your focus. In the event that you want to make this an amazing non-fishing scenic adventure, the minimum length can squeeze it into three days and two nights. The scenery definitely rivals the fishing. Either trip will most definitely change your perspective on Yellowstone.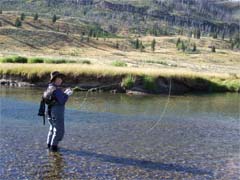 The Bechler River trips are great as fishing trips or for scenery and photography. This southwestern corner of the park is nicknamed the Cascade Corner after a long succession of waterfalls that drop from pool to pool from the plateaus into the meadows. Swimming is a popular activity on these trips as well. Imagine swimming in warm waterfalls from nearby hot springs feeding the river. This trip includes fording the river in a few different places as you rise out of the gradual canyon. Views of the Grand Tetons as well as plenty of unique waterfalls and other landscape varieties. The Bechler River route is best in the fall and it is suggested to spend five days and four nights on this adventure. For those who need to crunch this trip into less time, the minimum for fishing trips is four days and the minimum for non-fishing trips is three days.
The Mirror Plateau is said to be the place where Chief Joseph, a handful of other chiefs, over 600 of their people and over 1200 horses hid out from the US Army in 1877. Look over the Lamar Canyon, check out historic teepee rings and view seldom seen thermal features of the park all on this one exciting trip. The journey starts out along a couple different creeks and the camps are set up on the Mirror Plateau as you travel along it. This is a very unique place for historical and geological formations as well as great opportunities for wildlife. This trip is best when at least five days and four nights are planned, but the minimum is four days and three nights for those with limited time. This trip is great for history buffs.
Follow the Nez Perce Trail and cross Mist Creek Pass in the footsteps of Chief Joseph and the substantial group of people and horses who fled the US Army in 1877. This is a progressive route that ventures up Pelican Creek and over the Mist Creek Pass and then the descent into the Lamar River Canyon. Wildlife and Native American history are highlights of this awesome adventure. The length minimum is the same as the suggested length of five days and four nights. For those who want to combine fishing with this adventure, it is recommended to add an extra day.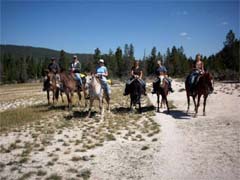 A unique and eerie experience awaits you in the Hoodoo Basin. These wind-carved monoliths will delight the curiosity of your group all the while uncovering a whole new perspective of Yellowstone National Park. Lots of Native American history will be brought to light as well. Portions of the Nez Perce Trail are followed which is famed for Chief Joseph's flight from the US Army in 1877 with several other Native American leaders, over 600 of their people and more than 1200 head of horses. These treasures come by way of the wildlife-laden Lamer River Valley and beyond. This excursion is set as a five day, four-night trip. Additional days can be added.
For those who feel like five days in the back-country isn't enough, the Thorofare Region is a great choice. This voyage ventures deep into the wilderness into one of the most remote areas in the contiguous US. Fur trappers were prevalent here in the early 1800s. Learn the stories and myths of these mountain men such as Osborne Russell and Jim Bridger. Early park rangers patrolled these wilderness areas for poachers once the protections of park hood prevented exploitation of the bountiful animals here in Yellowstone. Each day will bring new scenes and highlights in this progressive journey. Experience Yellowstone Lake and head upstream along the Yellowstone River and to the confluence of the Thorofare River. This trip is great for photographers, backcountry enthusiasts, and adventurers of all levels of experience. Ideally, this adventure takes eight days and seven nights and can be squished into six days and five nights. For those who would like to focus on fishing, consider a seven or eight-day adventure to really get the most out of your experience.

Yellowstone Day Rides
Yellowstone horseback day rides are like mini pack trips, with all of the education, stories, riding, and fun as a pack trip only much shorter.
You'll receive a mini riding lesson at the trail-head before you leave for your ride.
Rides leave from a variety of trail-heads in the Northwest Corner of Yellowstone Park.
For the fisherman we have several fishing day rides which offer pristine waters and nice fish along with beautiful scenery.
Rides generally run July August and September. We schedule rides early in the year and set the dates.
Well trained guides will prepare delicious meals, see to your comforts, and create a cozy camp atmosphere.
Some of our trips are designed to be orientated around fishermen & women during the length of the trip. However, more of our trips will pass by or through special areas of Yellowstone park that are known for its blue ribbon trout streams and rivers. Almost any of our horseback riding trips into Yellowstone can be made into fishing trips, even Day rides. (Lamar River, Slough Creek, Bechler River, Thorofare Region)

Speak with one of our helpful reservations agents and book your Yellowstone activities today!
866.256.9046